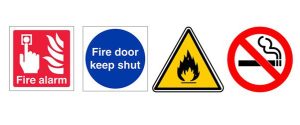 Fire safety signs provide vital health and safety information in order to warn anyone that enters a building of potential hazards. They also provide instructions to ensure all staff and visitors to your premises are aware of how to avoid those hazards.
Safe Condition Signs
What are they used for?
These should be used to signpost emergency exits, escape routes and essential first aid equipment.
When should they be used?
They should be used to show where the emergency exits are and how to operate the doors on the escape routes, for example, 'Push bar to open'.
What do they look like?
These signs can be green squares or rectangles with text as well as pictograms.
It's really common to see the wrong signs used in buildings. It's easy to accidentally use a green 'Fire exit' sign on the exterior of a fire exit door when it should be a blue 'Fire exit keep clear' sign. It's worth seeking the advice of a professional when you first place your signs. That way you know it's right and can keep it that way.
Prohibition Signs
What are they used for?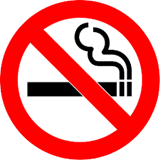 These signs are used to reinforce instructions that prohibit dangerous activities.
Where should they be used?
Inside your building to reinforce the prohibition of dangerous activities. The Health and Safety Regulations 1996 list these signs as a requirement.
What do they look like?
The signs are a red circle with a red diagonal line crossing through it. There will be a pictogram in black behind the diagonal line that indicates the nature of the prohibition. A good example is the 'No smoking' sign used as an example above.
Fire Equipment Signs
What are they used for?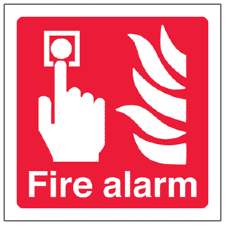 To show the location of fire safety equipment and fire alarm activation points.
When should they be used?
Wherever the location of this equipment is not obvious or can become unclear in low light conditions. For peace of mind, we'd recommend signposting all areas where fire safety equipment is stored and all fire alarm activation points. This is worth getting right. It's relatively low cost and you'll be glad you spent the small amount of extra money when you're able to identify your key areas easily in the event of a fire.
What do they look like?
The signs are a red rectangle or square with white pictures or text.
According to British Standard and ISO requirements, there are prescribed graphic design specifications for safety signs. Additionally, they are required to be visible under all material conditions, so you must always choose photoluminescent (glow in the dark) signs where it's practical.
If you are unsure, you have the correct signage in your building, speak to us today at Swift Fire & Safety.